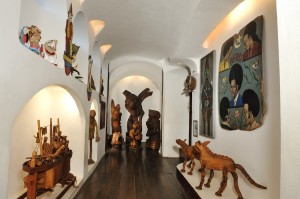 The works of more than a hundred hors-les-normes artists are permanently exhibited at La Fabuloserie museum.
Le Temps des collections, hommage à Caroline Bourbonnais, 2015
En hommage à Caroline Bourbonnais (1924-2014), l'accrochage de la collection permanente a été renouvelé afin de mettre en lumière ses acquisitions.
Pendant plus de vingt-cinq ans, Caroline Bourbonnais s'est attachée à mettre en valeur la collection d'art hors-les-normes et à l'enrichir des œuvres de nouveaux créateurs dont une partie est présentée dans le musée.

Anonyme, dit Pierrot le fou / Renaud d'Ampel / Guy Brunet / Gustave Cahoreau / Thérèse Contestin / Michel Dalmaso / Paul Duhem / Ted Gordon / Roger Hardy /Gérard Hass / Jeantimir Kchaoudoff / Aranka Liban / André Labelle / André Lécurie /Edmond Morel / Marilena Pelosi / André Robillard / Jean Tourlonias / Jacques Trovic / Jephan de Villiers