La Fabuloserie
La Fabuloserie, which opened in 1983 to the public , is a place imagined and designed by the architect Alain Bourbonnais to house his "art hors-les-normes" collection. This appellation was suggested to Alain Bourbonnais by Jean Dubuffet, who wanted the name of "art brut" to be reserved for his own collection. It refers to out of the ordinary creations made by self-taught artists.
After opening a gallery, the Atelier Jacob, in Paris 1972 and 1982, l'Atelier Jacob, Alain Bourbonnais decided to create, with his wife Caroline, a museum he called "La Fabuloserie". It is composed of a "museum-house" in which over a thousand works are exhibited, ranging from the drawings by Yanko Domsic to the "bourrages" (characters made of stuffed body stockings) by Francis Marshall, and the amazing series of "Turbulents" by Alain Bourbonnais himself. An open-air museum, called "the inhabited garden", displays the sculptures of "habitants-paysagistes" (inhabitants/landscape-artists): : Camille Vidal, Jules Damloup, , Jean Bertholle's weather vanes and Petit Pierre with his astonishing "manège" (merry-go-round).
Throughout his life as a creator, and even more as a collector, architect Alain Bourbonnais questioned himself on the best way to present his collection. In the mid- 70, wishing to create, a setting for his collection of works all akin to art brut, he decided to find a place that could give evidence of the out-of-the-norm specificity of the works in his collection.
Alain Bourbonnais
Architect, Alain Bourbonnais won several public competitions between 1960 and 1980. He built two theaters and more: Maison de la culture de Caen, Grand Théâtre du Luxembourg, Stella Matutina church in Saint-Cloud, the RER Nation station in Paris….
Creator: as a counterpoint to his hectic life as an architect, he practiced painting, sculpture, engraving. From 1970, he devoted himself to his Turbulents which he directed in two short films Turbulent's Band and Tricyclo.
Collector : his discovery of Jean Dubuffet's Collection of Art Brut, on the occasion of his departure for Lausanne, triggered his interest. He got in touch with Jean Dubuffet who supported him to open, in 1972, the first Art Brut gallery in Paris: l'ATELIER JACOB.
In 1983, he opened LA FABULOSERIE - Museum of "art hors-les-normes".
Schedule and organization
OPENING 2023 : From Saturday 1st 1st to November 1st, 2023
April, may, th June : Saturdays, Sundays, and holidays from 11 am to 7 pm
July, th august : Every day from 11:00 am to 7:00 pm, including 14 th july and the 15 th august
September, october : Saturdays, Sundays, and holidays from 11 am to 7 pm
(Provide for 2 hours of visit)
Rates
Full price : 10€
Reduced rate 6€ (from 5 to 18 years old)
Free for children under 5 years old
Accepted means of payment : credit card - cash - check - administrative transfer
Reservation for adult and school groups through the form on the website " Visits "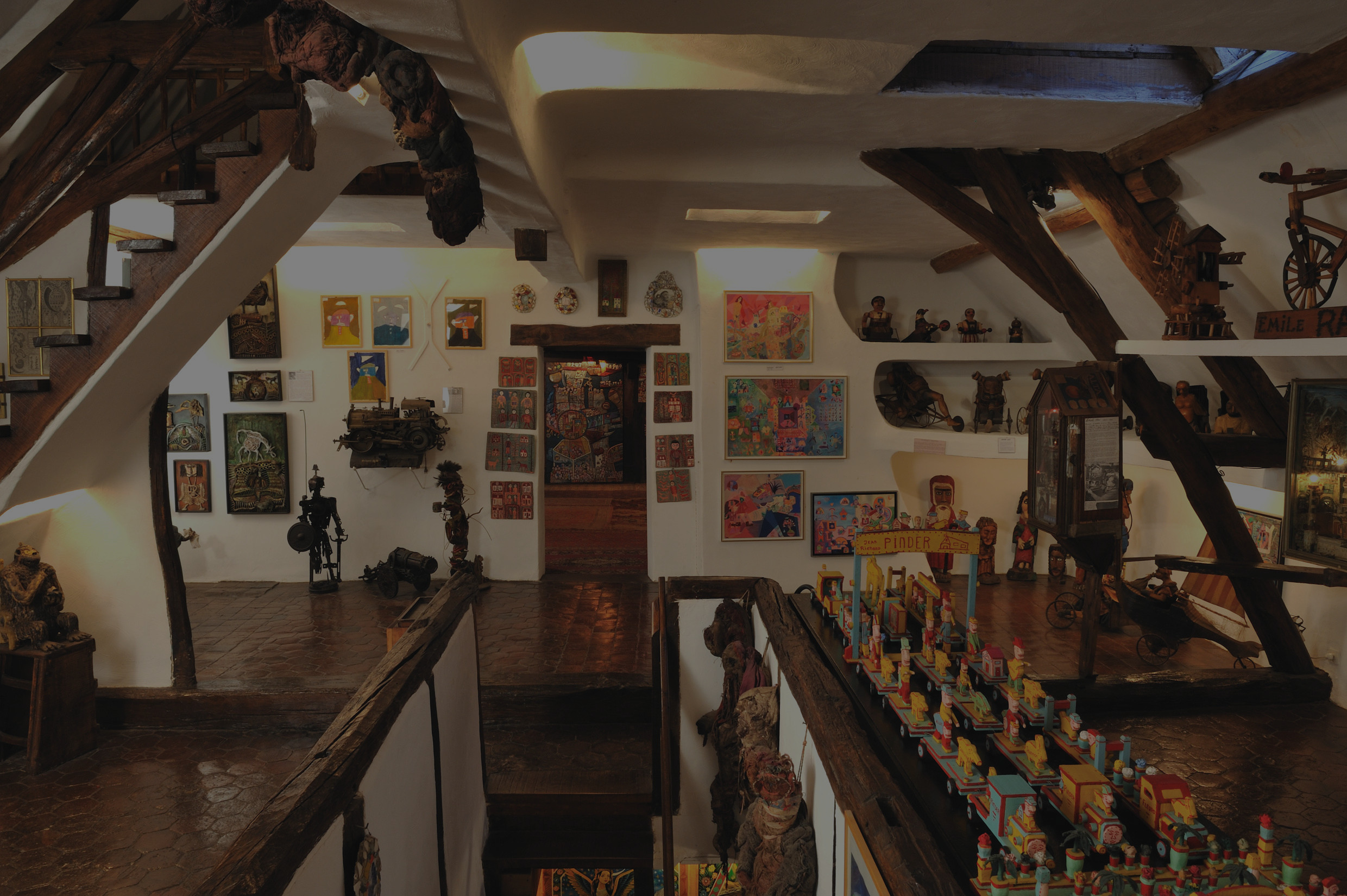 Hors les murs and news
Stay informed about upcoming events and exhibitions of our collection outside our walls !
-> Exhibition at la Halle Saint Pierre from 25 th january to 25 th august 2023
Contact