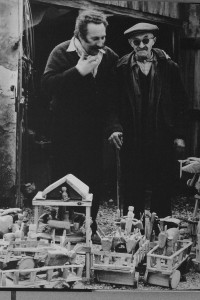 As soon as he lives in Paris, Alain Bourbonnais spends a lot of time in the galleries of the Latin Quarter. Without actually starting a collection, he begins in 1960 to gather a few drawings and paintings by Corneille and Karel Appel , the artists of the CoBrA group . He also acquires works by Louis Pons and Yolande Fièvre, as well as objects related to circus and folk art (hairdresser's signs, wooden toys, old tools, ex-voto etc).
In 1971, his discovery of Jean Dubuffet's Collection of Art Brut, which is about to leave Paris for Lausanne, comes as a decisive shock. From then on, Alain Bourbonnais sets about collecting works related to art brut in France.
Helped in his search by Jean Dubuffet, he meets other collectors and makes more and more findings thanks to their support (Alphonse Chave, Claude Massé, etc.) He soon owns an important collection of hors-les-normes art. His selection criteria, besides the unbridled aspect of these out-of-norm works, are essentially subjective.
Acting on enthusiastic impulses, Alain Bourbonnais admits: "I only collect what I could just about have made myself ". He collects as he creates, plentifully. "You are always fond of ampleness, of wide ranges of fiery passion, of profusion, you like large numbers", Jean Dubuffet wrote to him in 1979.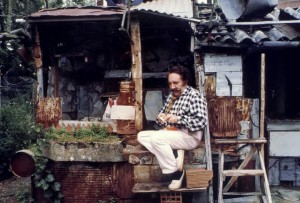 In 1972, Alain Bourbonnais ouvre à Paris L'Atelier Jacob, galerie d'art hors-les-normes. Cette dernière est fermée en 1982, faute de clients. Collector, bien plus que marchand, Alain Bourbonnais décide d'exposer sa collection au public en 1983. Avec l'aide de son épouse Caroline, il va créer le musée de La Fabuloserie dont il a imaginé et réalisé la scénographie.
Refusing to be a theorist or a critic, he does not comment on hors-les-normes artists. However, he gives them the opportunity to express themselves through publications (Petit cahier à grand spectacle) and their testimonies are preserved in his short movies (Simone Le Carré-Galimard, Pépé Vignes, Emile Ratier).