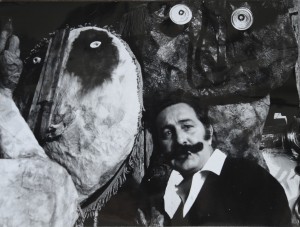 Alain Bourbonnais, who has so far always practised drawing, painting and engraving, starts in 1970 devoting himself to Turbulents, then in 1980 devoting himself to Briculages. He also makes short films showing his own works. The heterogeneity of his works reflects his taste for exploration and experiment.
He declares, "I want to be a fabulous fabricator", His creations belong in the field of dreams, carnival, fiesta. His creative process is inseparable from the notions of pleasure and play.
His whole work is preserved at the La Fabuloserie museum. Part of his work is permanently exhibited in the Turbulents' room and in his workshop which has recently been opened to the public. .
Drawings, paintings and other experimental works
From the age of 12 th anniversary, Alain Bourbonnais keeps drawing. His first travel sketches, drawings made with lead pencil, India ink and coloured inks date back to 1945.
At the beginning of the 1960, he goes into painting. After producing a series of rather classical works, Alain Bourbonnais experiments mixed techniques from 1963 to 1975.
He first adds oils to his pigments, so as to play on the dilutive effects and get random results. Progressively, his pictorial progresses to using all kinds of support : the canvases are replaced by doors, pigments by a variety of materials. These "peintures-assemblages" (relief paintings), announce the future three-dimensional Turbulents.
Engravings ? Prints ? Lithographs ? Neither of these terms. Alain Bourbonnais prefers to use the appellation " Décalcomanies Turbulées " for the transfer-pictures he prints on his press.
Experimenting constantly, Alain Bourbonnais produces an amazing series of multiple works. None of his engravings is identical, the multiple is demultiplied, with infinite variations.
Starting from matrix molds representing truculent characters, he alters their appearances, plays tricks on them. "Each character, he writes, can be clad or stripped naked, and coloured and articulated in different ways. "
This taste for the multiple naturally leads him to make an inordinate use of the photocopier. Hundreds of printed, sheets are illustrated with "turbulented" scenes. The replacement of the press by the copier demonstrates, Alain Bourbonnais's constant appetite and liking for technical innovations.
"My Turbulents , are my main creation ; I have raised them, they are my Tribe", Alain Bourbonnais, 1979.
Alain Bourbonnais begins the Turbulents in 1970, a work of total art. These three-dimensional characters start from a structure made of wood and wire, which is then covered with various materials and objects : papier-mâché, lace, fabric, rags, tin cans, bones, wigs, old shoes, bags, etc.
The Turbulents tribe is composed of some forty automaton-sculptures either, animated by a spring-motor wound up with a crank-handle, or carried like costumes, dit « custumes ».
Marked by the carnival spirit and above all by the "Rouge-Vin" parties at the Ecole des Beaux-Arts, Alain Bourbonnais uses and films his tribe in three short movies. They each have a name and are, real characters : La Célestine, Mademoiselle Rose, Tricyclo, Puéril Magic, , La Récréation du Petit Roi and Chouchou Recto Verso… They constitute a particular clan with their own rites and customs, which can be discovered in his films Turbulents' Band and Tricyclo.